The FIRST Robotics Competition game for 2020 is Infinite Recharge. The game and field is themed around a futuristic city and the shields that protect it.
Game Reveal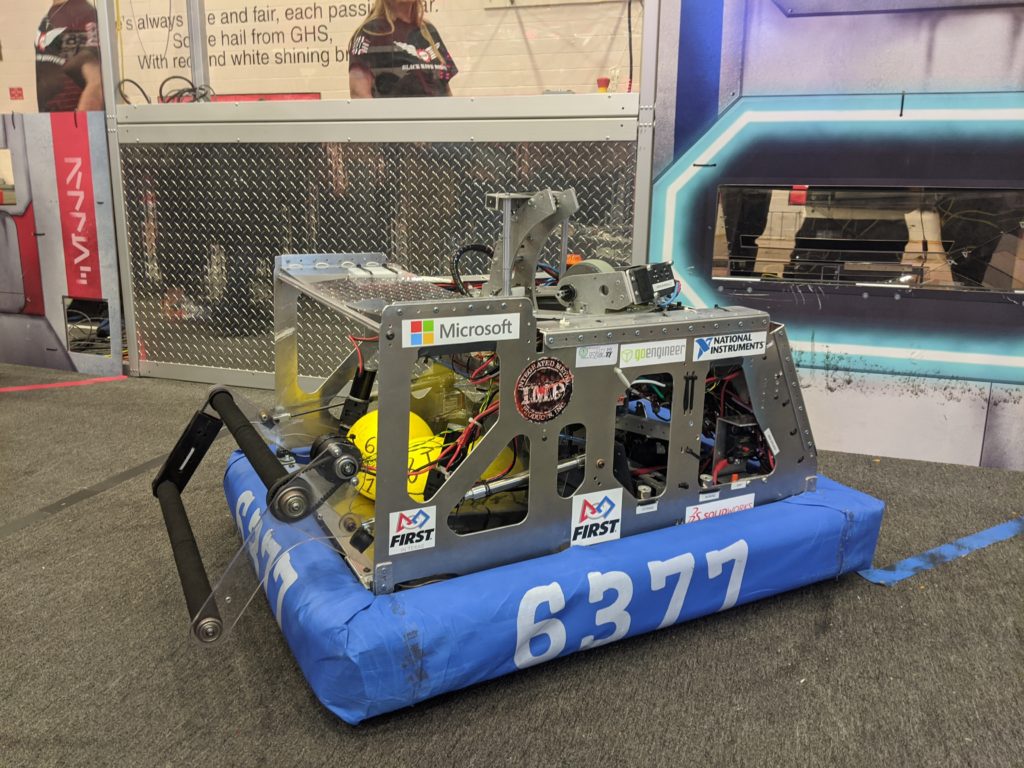 *** Season Canceled Due to Covid-19 ***
2020 Robot – QuickDraw
QuickDraw uses a fast and efficient pneumatically actuated bar-roller intake to quickly acquire power cells! Power cells then move to the gravity-fed hopper, before getting pulled up and into the shooter!

Our shooter uses a dual wheel accelerator that feeds into a single wheel, main flywheel capable of 15,000 RPM. With the addition of our computer vision, and turret capable of just over 90 deg of rotation, we can quickly and reliably target the power port!

With our West Coast style drivetrain and 6″ pneumatic wheels, QuickDraw is able to easily handle obstacles on the field while remaining low enough to traverse under the trench!

While we may have only gotten to compete in one event, it has not stopped us from improving the robot further. With a new three-roller intake, better hopper, and modified shooter rails we have have been able to significantly reduce QuickDraws cycle times, and improved code allows us to target the power port even faster!!
Season Stats
Greenville District event
W/L Record 12-7-0

Seed 10th

Alliance 5417, 7534 (Finalists)

OPR 41.73

Awards Entrepreneurship, District Finalist
**Canceled** Austin District Event

Blog Posts from 2018