"I feel like this program was a valuable experience because it pushed me out of my comfort zone. It helped me become more comfortable doing things like public speaking and taking charge. This program inspired me by helping me learn things that I wouldn't have access to otherwise. Things like using power tools and learning CAD. These helped me solidify my love for engineering. I gained more confidence in myself, learned more about CAD, and learned more technical skills."

-Mackenzie, Howdy Bots student, age 14
Howdy Bots is an intense, hands-on, and informative experience for the mentors and students alike. Each student averages 464 hours of STEM learning during the 4 months of our busiest seasons—and we meet year-round.
"I believe that doing this program was a valuable experience because I learned so many skills in the programming, mechanical, and CAD areas. I [now] have tons of experience if I want to go into an engineering field."

-Zach, Howdy Bots student, age 15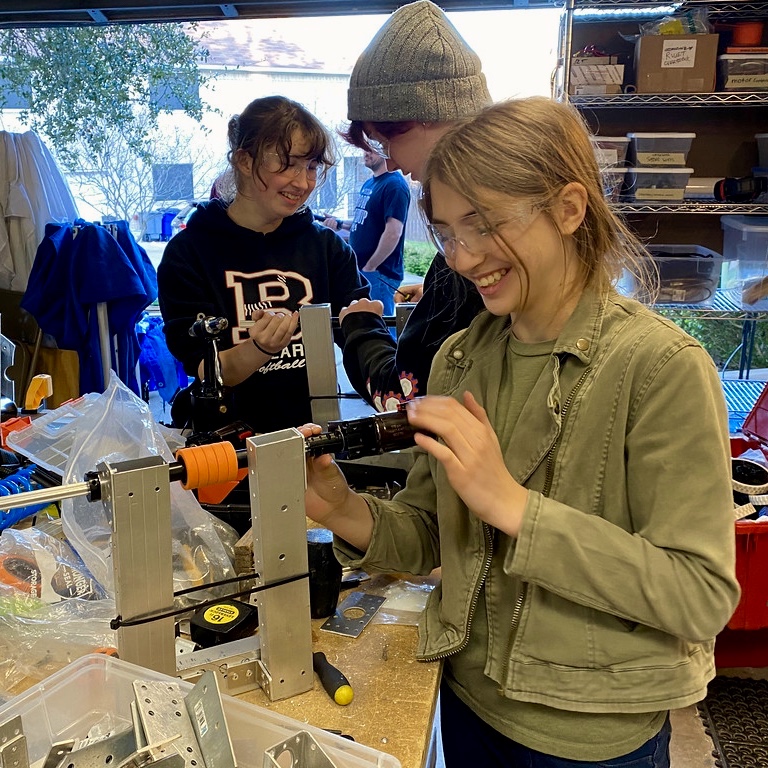 "When in business school they drill into you the tone at the top sets the tone for your organization. I can clearly tell that is what has made the HB so amazing. Your passion for mentoring these kids shines through and sets the tone for everyone on the team. Such a wonderful example of gracious professionalism, always being kind and helpful to other teams even though in competition, tough when needed and gentle when they are down due to a tough loss. The investment of your time, energy, house, and garage is definitely extremely appreciated and is making such a profound impact on these kids. I can't believe the kid Kenzie is today and so much of that growth has come from Howdy Bots. THANK YOU for your investment and donation of time. It's rare to find someone willing to do everything you have and I am eternally grateful!"

Allison, Howdy Bots parent
We actively recruit at under-resourced public, charter, and private schools, and homeschool groups, as well as provide them with demonstrations where our team members are able to talk about the robot and let the students come up close to see how it all works. Our robotics demonstrations lead to a broader interest in STEAM.
"I got to learn about vacuum and how much force it takes to flip our robot."

-Patrick, Howdy Bots student, age 15
We offer dues and travel scholarships to students who would be unable to participate otherwise, and we have helped graduating seniors with college applications and essays during robotics meetings.
"I learned a lot. I created a business plan. It was inspiring, it always pushes me to do things outside my comfort zone."

-Aubree, Howdy Bots student, age 17
We pride ourselves on serving students who learn at different paces. We meet students where they are and tailor our instruction to their needs, providing both accommodations and scaffolding. We have created a safe environment for girls and continue to increase our percentage of females participating in our program.
"I feel like this program was a valuable experience because it pushed me out of my comfort zone. It helped me become more comfortable doing things like public speaking and taking charge. It made me realize how much a group of determined kids can accomplish. I learned lots of mechanical things I didn't know before, how to better speak to adults, and how to better collaborate with a semi-large group of people."

-Joe, Howdy Bots student, age 15
Our five-year plan is focused on 3 main goals, in order of priority:
Strengthen: continue to build our Howdy Bots program
Stabilize: raise funding to continue in our workspace
Expand: start a FIRST Lego League team for elementary-aged students
"My boys have experienced phenomenal personal growth from being a part of the Howdy Bots FRC Team #6377 this past year. During the process of building a robot, my eldest son realized he wants to be a mechanical engineer so he is pursuing that degree while assisting in mentoring the team this year. My other son continues to expand his programming skills, but I am equally impressed with the soft skills he's acquiring, such as public speaking, teamwork, developing a strong work ethic and learning how to be a thoughtful leader. The mentors are amazing at not only allowing the kids to pursue their individual interests, but also encouraging them to push beyond their comfort level in order to help them see they are capable of so much more than they ever realized. Joining this team was the best decision we've ever made. Go Howdy Bots!!!"

-Lisa, Howdy Bots parent
"I used to hate STEAM. For me, it was a metaphor for whatever boring thing the teacher could think up. But that all changed when I went to the 2016 Maker Faire. I was with my family as we wound through the Faire, and I thought everything was boring. Finally, we rounded a corner into the FIRST Robotics section, and even though I thought it was boring and uninteresting, I followed my brother over to the robots and that was when one of the team members came over and showed us how the robot worked. Hearing her explain it made me realize that it was something I could understand. Even though I knew nothing about robotics, on the ride home, I decided I wanted to be on a team! We looked for a couple of months for a team I could join, but it soon became apparent that all the teams were with a high school, except the Girl Scouts Team 2881. Sadly, being of the male variety, this was not an option, so instead of giving up, I decided to make my own team. So, we posted online to see if anyone was interested. Now, one year later, we are one of the most successful rookie teams, and I have gone from hating STEAM to hoping to be a mechanical engineer!!!!"

-Kirven, Howdy Bots student, age 14

Volunteer Events / Community Impact
2023 NI Family Day
2022 Harris Elementary STEM Family Night
2022 Remote-Drive @ Microsoft
2021 Amplify Austin Day
2021 Mentor to rookie Team 8069
2020 Two Remote-Drives @ Microsoft
2020 Remote-Drive at Compass Rose Public School
2020 Howdython
2020 FRC 2468 FIRST in Focus (streaming event)
2020 Microsoft Central Texas GIVE Back event
2020 Mentor to rookie Team 8088
2019 ChickTech demonstration @ Texas School for the Deaf
2019 Python Club @ Little Walnut Creek Library
2019 Howdy Bots Telethon
2019 Hot Science Cool Talks @ University of Texas. Public STEM program. Part of the opening activities for 600 attendees.
2019 Time Machine Summit with Spark Cognition
2019 Joe Lee Johnson Elementary demo for 5th graders-public charter school
2019 Abbot Employee Giving Kickoff campaign
2019 Microsoft Demo
2019 PEACE co-op- homeschool group demonstration
2019 Cedars Next Generation STEM High school demonstration
2019 Round Rock Library Space Science Stations
2019 Solidworks Users Group demo
2019 Round Rock Express (baseball) Demo
2019 SISU Devices visit
2019 Austin Sunshine Camp (for underprivileged kids) volunteers with Spark Cognition
2019 Guadaloop SpaceX Hyperloop University of Texas competition team visit
2019 Cedars Next Generation STEM High School demonstration, Grades 8-12- public charter school
2019 Jubilee Academy-Wells Branch Demonstration-public charter school demonstration to 200 3rd-5th graders
2019 PEACE co-op Demonstration- homeschool co-op demonstration
2019 Mentored rookie Team 7621
2019 Homeschool Happenings Demonstration
2019 Microsoft Demonstration
2018 Austin Spurs Half-time STEM show: demo in front of 5,000 middle schoolers
2018 Round Rock Express Featured Non-profit: minor league baseball game demo and on-field interview.
2018 Homeschool Happenings Participant: activity fair for homeschoolers
2018 Maker Faire Austin Participant
2018 We mentored two rookie teams: Teams 6896 and 7093.
2017 Austin Spurs Half-time STEM show: demo in front of 5,000 middle schoolers
2017 Maker Faire Austin Participant
2017 Hill Country Bible Church Summerfest participant
2017 North Austin Science Alliance demo: homeschool group
2017 Central Texas Science Team demo
2017 Austin Area Homeschoolers Math Team demo: homeschool group
2017 Hill Country Science Team demo: homeschool group

2016 North Austin Science Alliance demo: homeschool group
2016 Austin Area Homeschoolers Math Team demo: homeschool group
2016 Hill Country Science Team demo: homeschool group
Partnerships
2020 Integrated Metal Products-metal fabrication, welding

2019 Go Engineering- CAD
2019 Integrated Metal Products-metal fabrication, welding
2018 Integrated Metal Products-metal fabrication, welding
2017 Integrated Metal Products- metal fabrication, welding