Marketing Pit Reveal
In the beginning, we had an idea of a spectacular space station. We realized that we weren't quite enthusiastic about the design, so we changed everything, burning that idea to the ground. Out of the ashes rose an interstellar gas station with bathrooms so clean they don't actually exist. Welcome to the Orbital Outpost! How may I help you?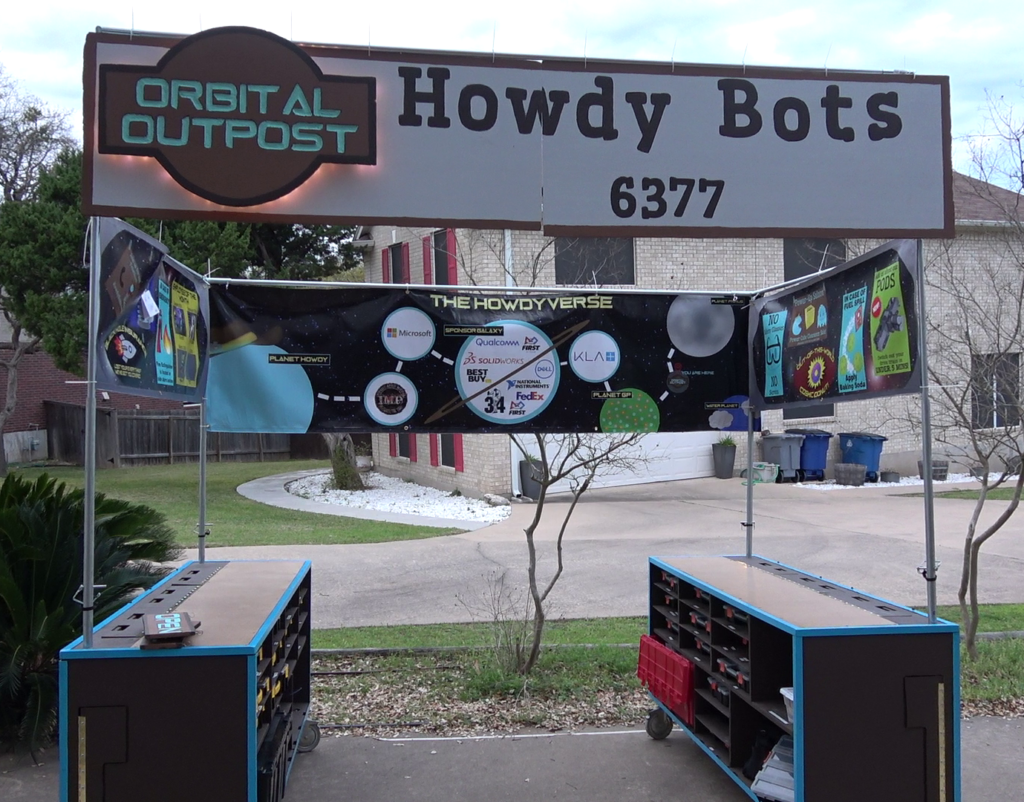 In order to create our new gas station, the marketing team started on three banners which look out from the station into the emotionless void of space. We had many ideas to fill the void and eventually landed on the concept of posters hung in the gas station windows. Our designs highlight our sponsors, principles of FIRST, our robot features, some humor, and water games. We built new pit carts to replace our well-worn travel cases, which come in handy for the mechanical team's quick robot fixes.
To create our Orbital Outpost sign, we measured and carved foam boards to the design specs and painted them to fit with our brand standards. We also created our very own gas pump that pays homage to the 2017 Steamworks game. The pump includes a special type of paint that allows us to write in chalk prices so we can increase the gas price at random (just like real life).

Here is a video of our pit reveal which includes animation done by one of our very own Howdy Bot's student.
That video, made by a hard working student and a mentor, is a rarity in FRC as most teams post their robots, but not their imagery. We hope to start a trend where teams share their imagery each year as well.
Iterate, Test, Iterate, Test, then Test Again!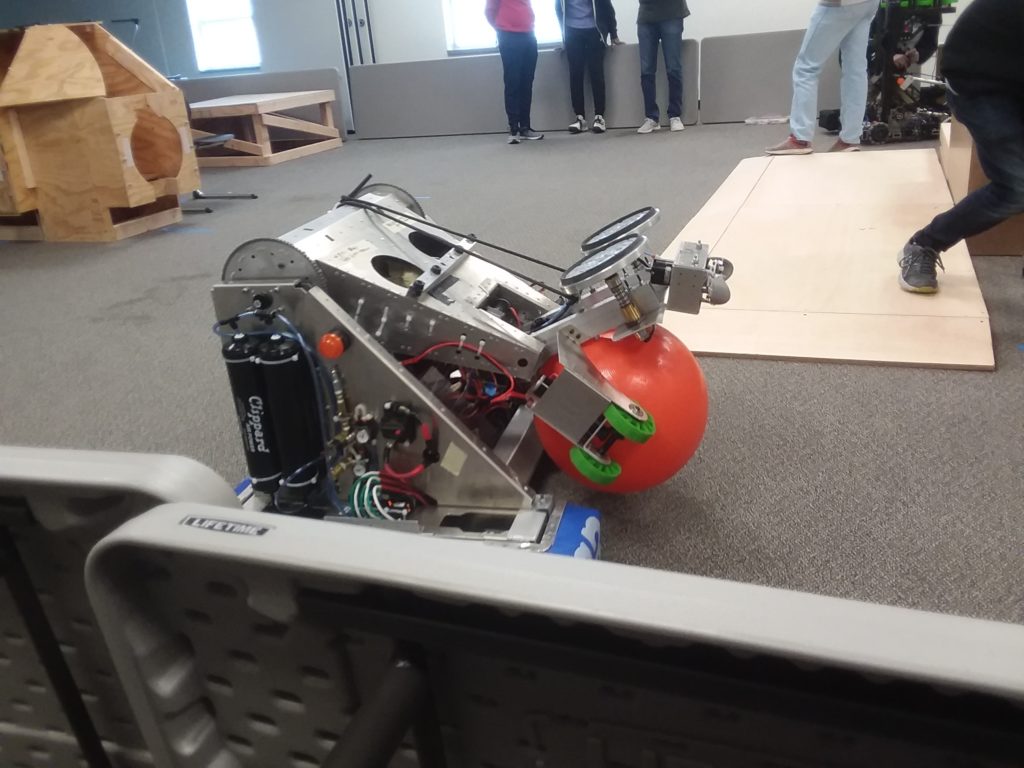 As you may know, we work out of our head coach's garage, so we don't have a lot of deep space to test the robot. Thanks to 2881 Lady Cans and 6800 ViperBots Valor, we were able to get some robot testing in along with additional drive practice. We were able to identify some areas that need tuning and/or improvements. Testing is vital for every change we make ensuring the results are as we intend them to be.

We are making some cool iterations and are excited to compete with them in the coming weeks as they are put to the test in competition!

Del Rio Competition Information

We are back at it again and this time we're going to Del Rio. The competition will be taking place this weekend, March 23rd and 24th. You will be able to watch up compete from the comfort of your own home on Twitch! Below is the competition schedule and link to watch us and all the other teams compete.

Link to watch us compete:

First in Texas Livestream link
Competition Schedule

Saturday
Quals – 11am – 1pm
Quals – 2pm – 7:30pm
Sunday
Quals – 9:30 – 11:30
Alliance Selection – 12:30 – 1pm
Playoffs – 2pm – 5pm
Awards – 5 – 5:45pm
The times can change as sometimes matches run long, but we expect things to remain on schedule for the most part. The exact match schedule will not be released until the morning of Saturday. To see which matches we will be playing, you can go to The Blue Alliance link below and scroll down to our Del Rio Event. You will be able to see the real-time results of our matches there as well.

Link to Blue Alliance for team match information:
https://www.thebluealliance.com/team/6377
Live videos on Facebook
For this competition, we will be doing more livestreams on Facebook showing you the pit area, talking to students, explaining parts of the game, and also showing you some matches. Check out our Facebook page during the competition to see what else is going on!