Schedule A Visit To Our Shop Now!
Email our Team Admin to schedule a visit to our shop where you can see our team at work and learn more about what we do!
Howdy! Thanks for your interest in our team. We are a proud Austin-based community organization that inspires STEM in our local community through robotics competitions. We are looking for mentors like you who can bring their expertise to the students and also exercise teaching and leadership skills that can be transferred to your professional and personal lives.
To learn more about the team and how you could be a good fit, please keep reading: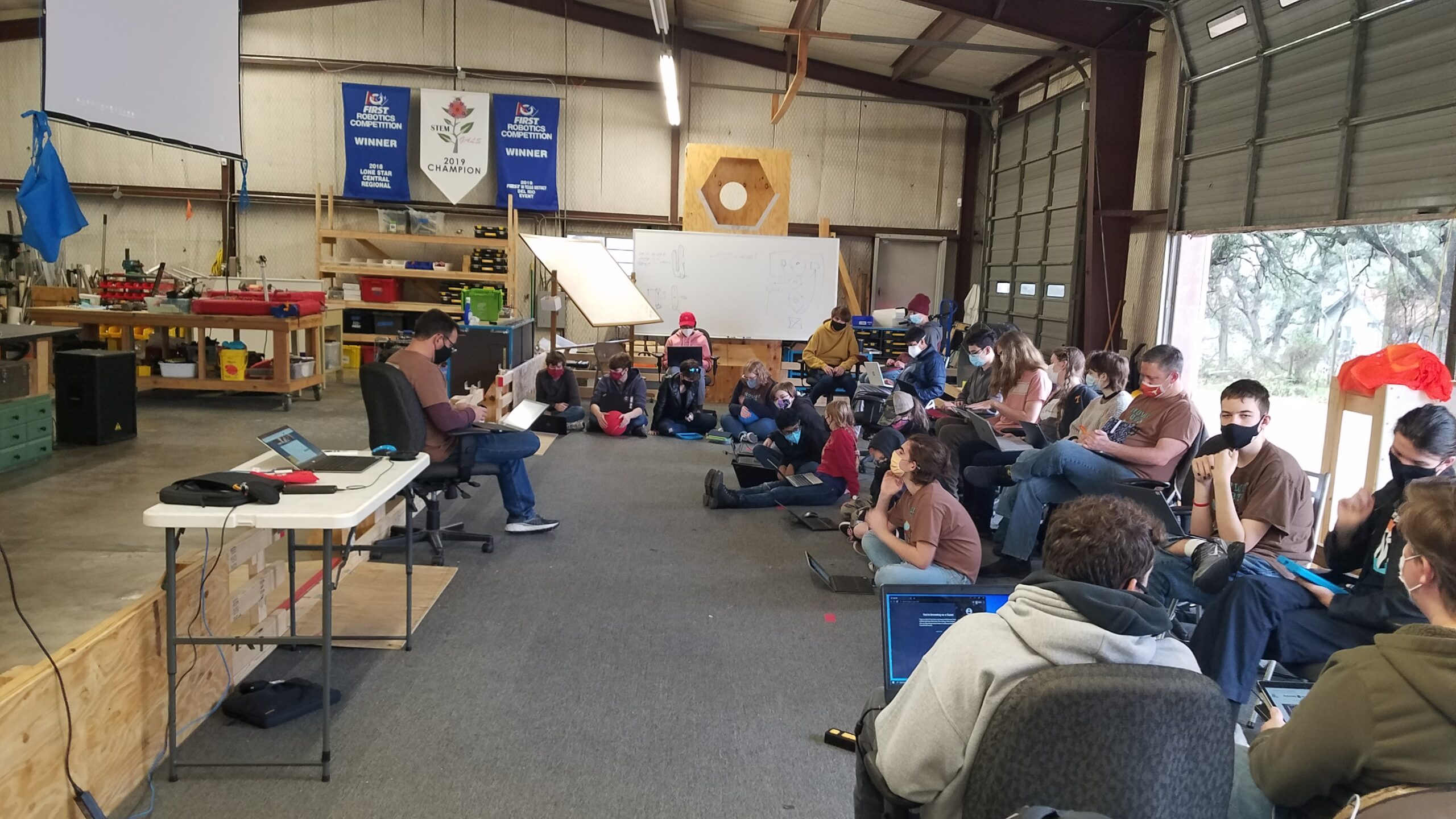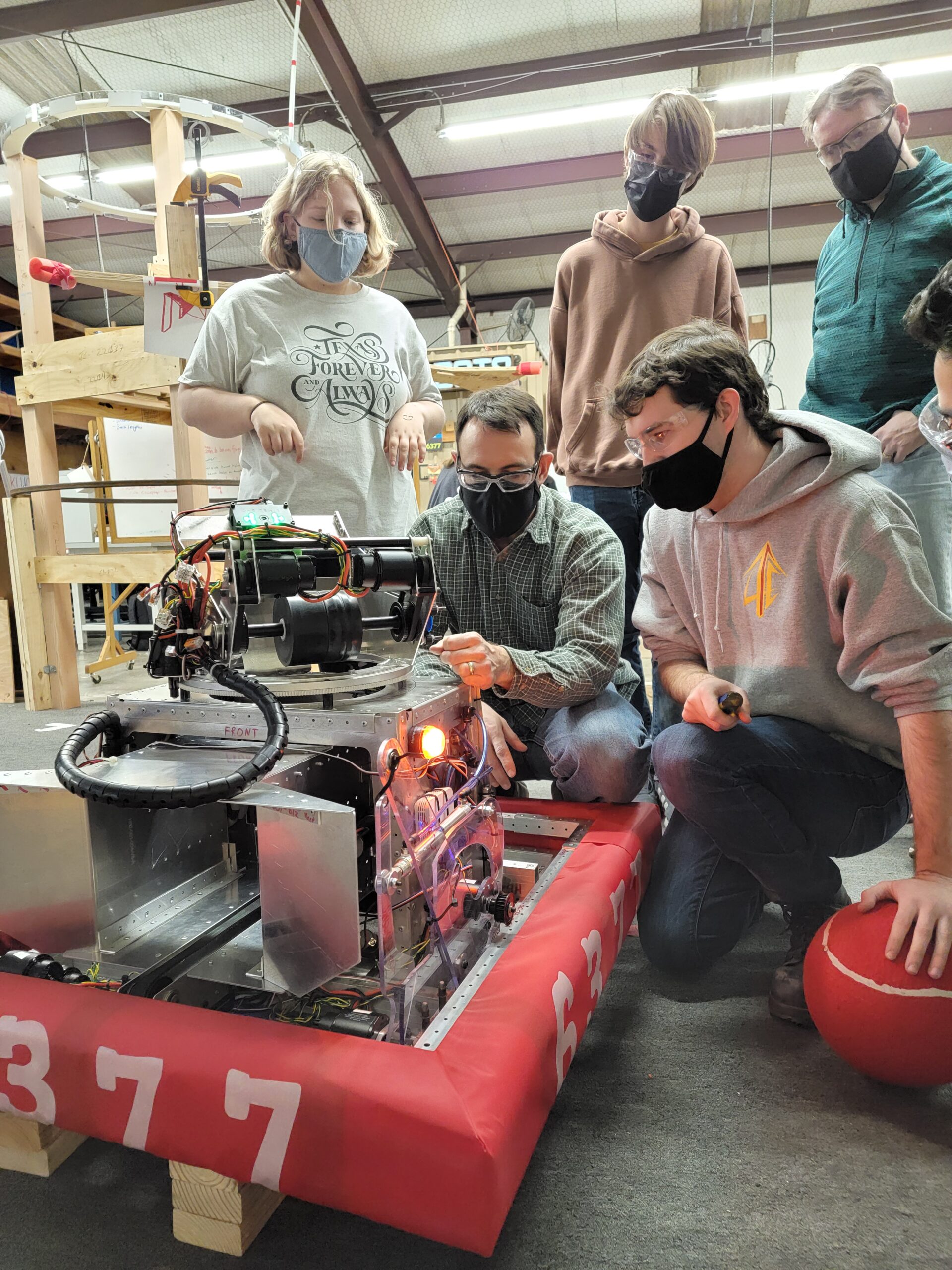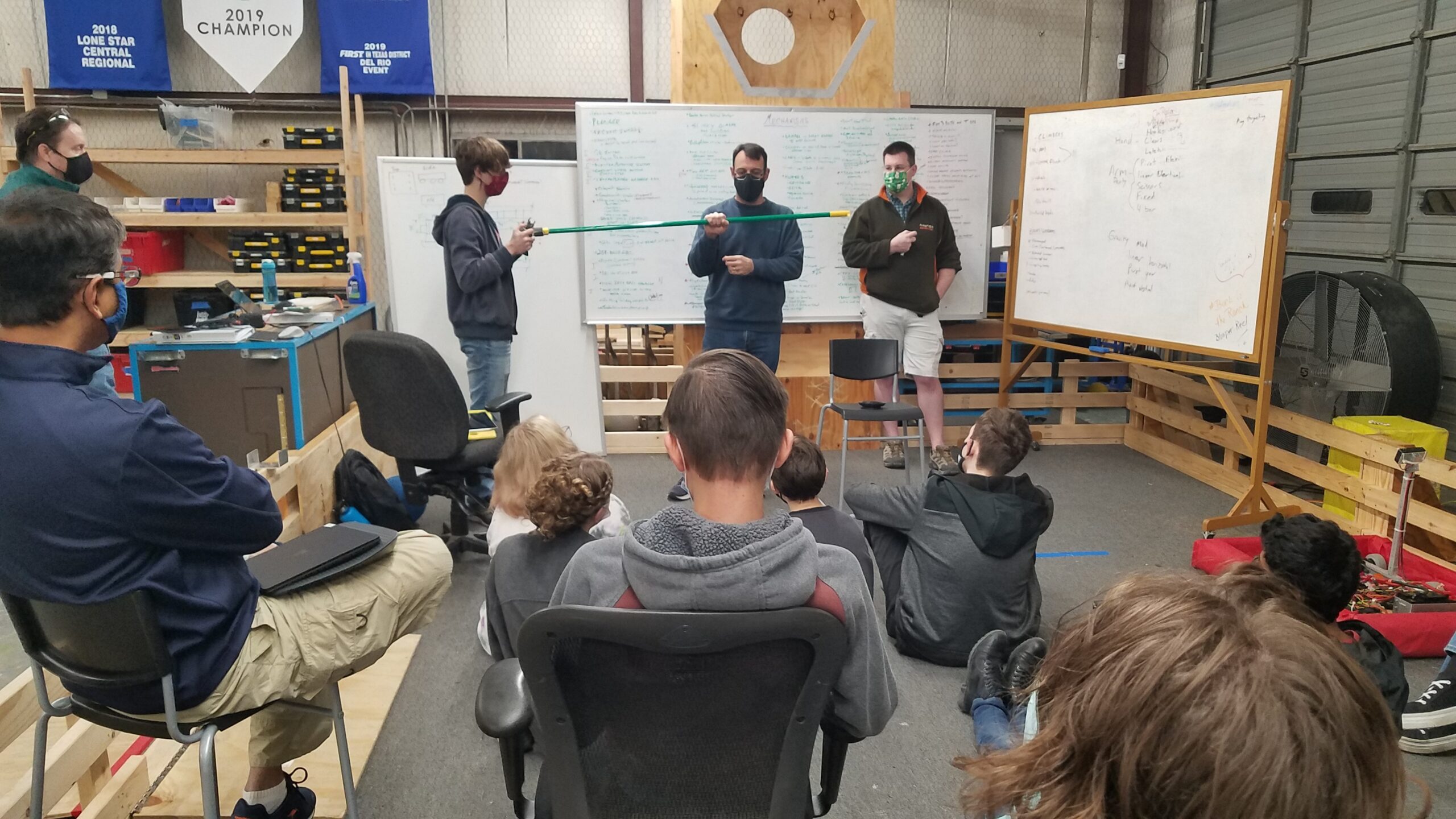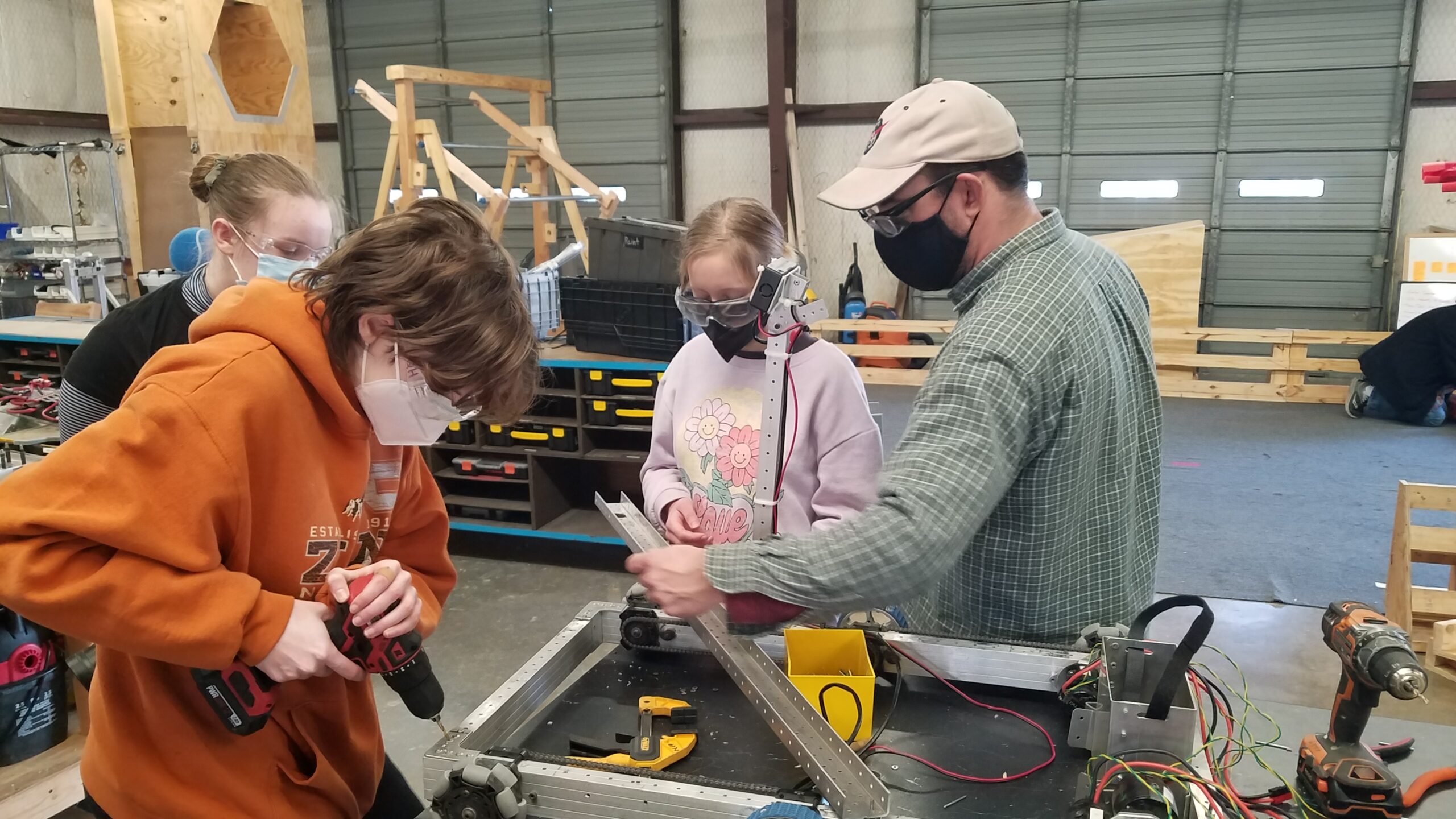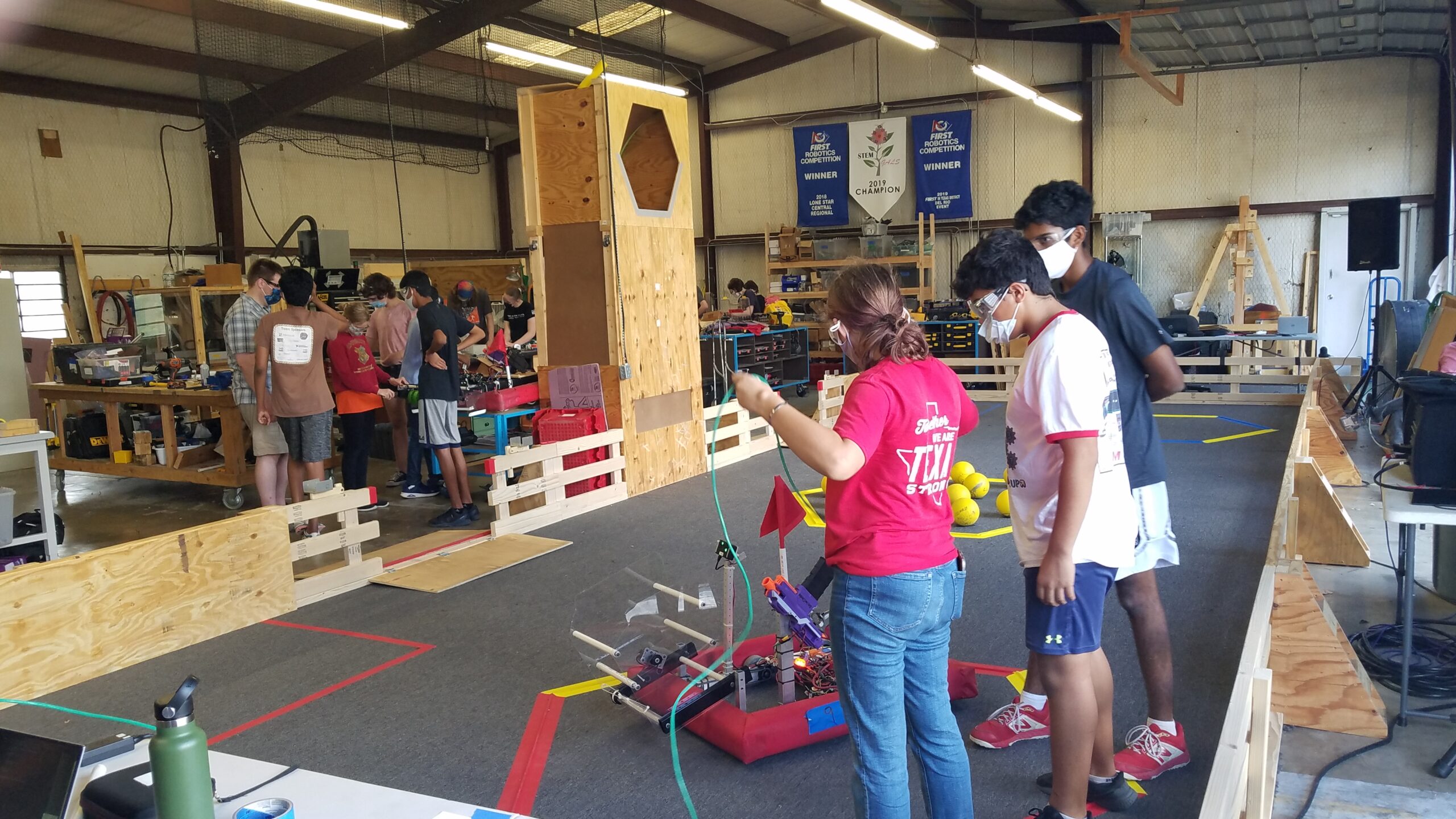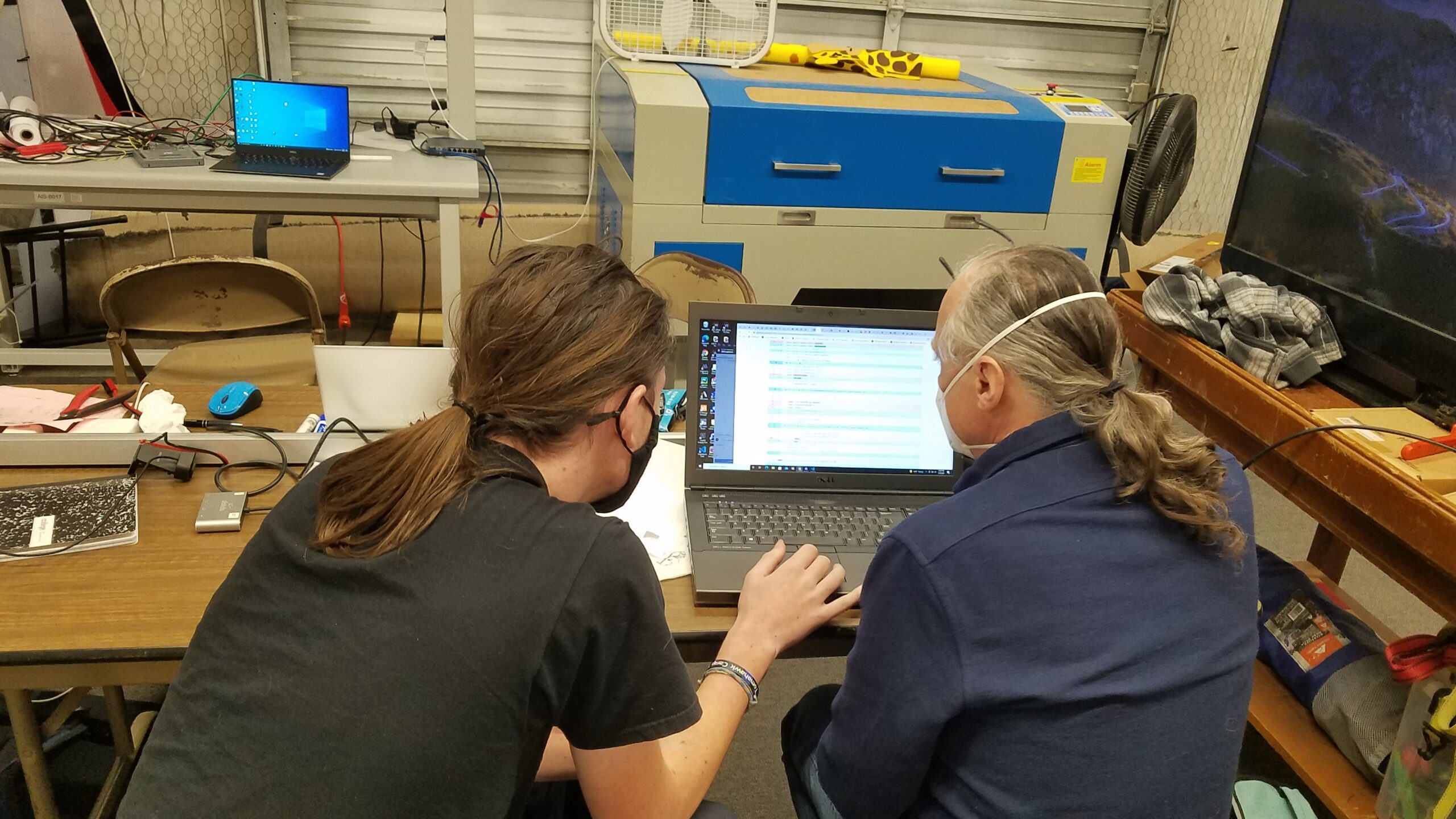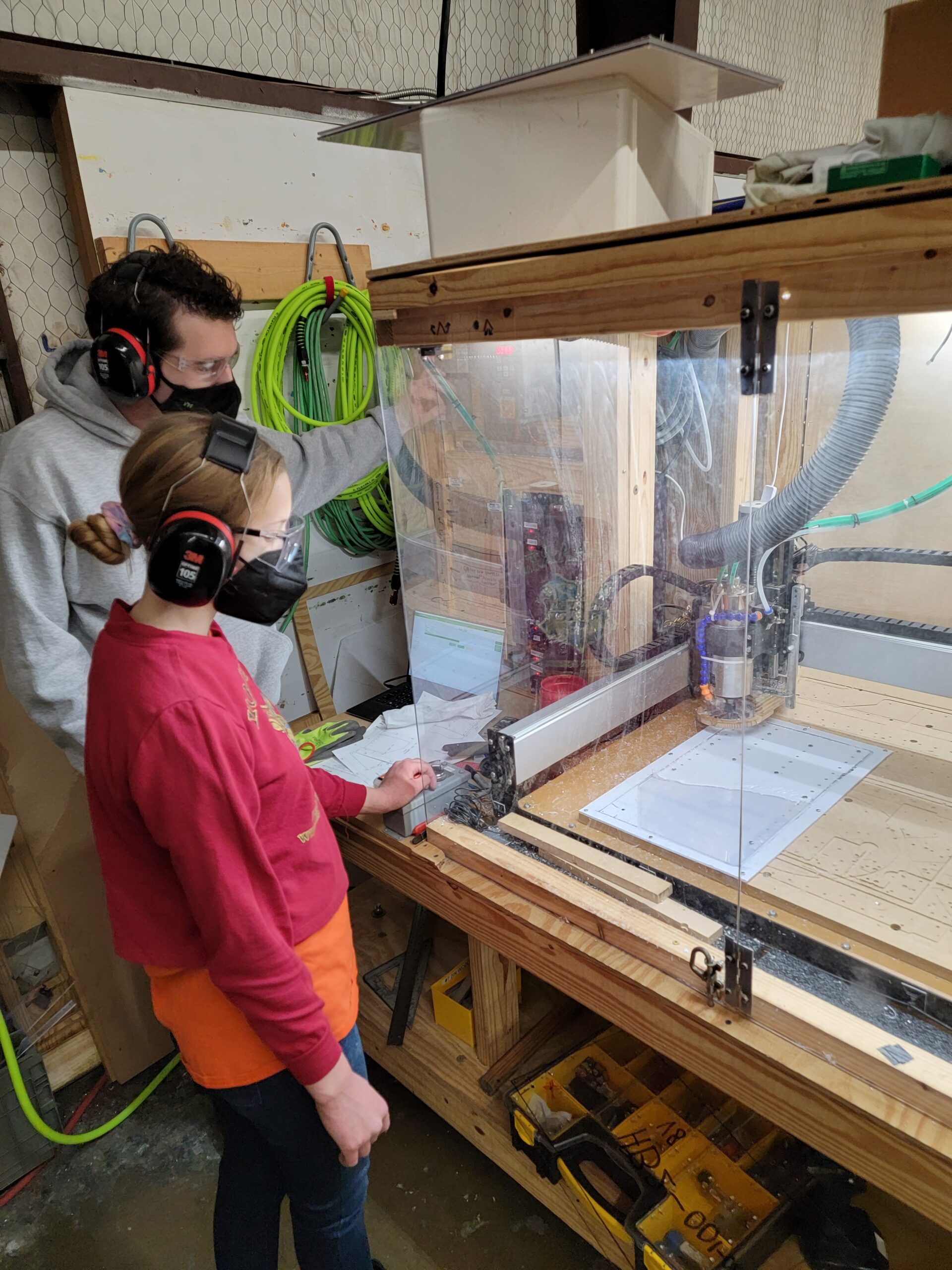 Who are the Howdy Bots?
The Howdy Bots are a community robotics team located in north-west Austin with the mission of leveraging STEAM (Science, Technology, Engineering, Art, and Mathematics) and FIRST as a means to provide concrete opportunities for all students so they can explore their interests, pursue their passions, and develop into successful, happy, confident adults.
Key facts:
We are comprised of high-school level students (13 – 18 years old) with a passion for STEAM education, and mentors, whom are experienced professional engineers and business leaders.

The 2022 roster consists of 10 enrolled students and 8 committed mentors.

Every January, we receive a set of rules and details for the year's game, and then have 6-8 weeks to strategize, design, model, and construct a 120-pound robot.
Our team operates as a small engineering company, with responsibilities that also include marketing, fundraising, programming, and so much more.
What is FIRST Robotics Competition?
FIRST stands for: For Inspiration and Recognition of Science and Technology. It is a non-profit organization founded by Dean Kamen whose vision is:
"To transform our culture by creating a world where science and technology are celebrated and where young people dream of becoming science and technology leaders."
Methodology
Engage kids in kindergarten through high school in exciting, mentor-based, research and robotics programs that help them become science and technology leaders, as well as well-rounded contributors to society.
FIRST Robotics Competition (FRC)
The team competes in the FIRST Robotics Competition, the highest-level offered by FIRST. In about 6 weeks, teams have to come together to design, manufacture, assemble and program a 3 sq ft robot that solves a challenge given in January.
It combines the excitement of competition with core values as Gracious Professionalism and Coopertition, that ensure a fair playing field and encourage teams to help each other through the tournament.
Leadership and Stem POutreach – (WIIFM)
An ideal mentor is someone who…
Loves what they do and wants to share it! From engineering to finance, and from manufacturing to marketing, the team runs like an engineering company that requires of all functions and expertise!
Is willing to teach and learn (sometimes learning more than teaching!) Mentors enable students to think through problems and provide insight on the solution proposed by the students. Instead of lecturing, the team serves as a laboratory for innovation and creativity!
Knows that exploring, trying and failing is the best way to learn. Mentors allow the students to research, do and test the results in a safe environment.
How much time is exptected on me? What is the level of commitment?
We value reliability over availability.
We know mentors have busy lives, and we want them to have the best experience with the team. Therefore, it is possible to help out from a couple of hours a week to full-time. The team internally posts calendars where mentors indicate the days and times they are available.
Are there other ways to help?
You can also consider the following options if you are interested in the team or the FIRST Robotics Competition:
Volunteering at events: this is a fantastic way to share your talent with the students during a single weekend. Robotics competitions require of judges, referees, among many other technical and non-technical positions in which your help would be super valuable. Learn more about those here: https://firstintexas.org/volunteer/
Donations (individual and corporate): The team organizes a telethon every year and continuously requires funds for its facilities, robot parts and tools. You can also help by putting the team in contact with your corporate giving team!
Share your experience with the students during one of our meetings: we would love to host you as a speaker for our team to talk about your career and what your job looks like. A big deal of inspiring youth into STEM relies on sharing success stories and lessons learned.
Are the Howdy Bots just about building robots?
The team goes above and beyond just building a competition robot every year. We strive to be a force of inspiration and change in our community through various activities, such as:
Demonstrations of the robot and the program at different local events
Participation at corporate and non-profit summer camps to teach science and technology
Fundraising during our annual Telethon, held in November
Where is the team, exactly?
The team is located in 12202 N Mopac Expy B, Austin, TX 78758
Next Steps – Visit Us!
Schedule A Visit To Our Shop Now!
Email our Team Admin to schedule a visit to our shop where you can see our team at work and learn more about what we do!