After 4 seasons of being stuck in a tiny garage, the Howdy Bots NEEDED to get more space. Our original limit was 10-15 students, but then we somehow hit 19 students! We then decided to freeze recruiting until we'd gotten more room, because there was simply not enough space to get work done.
However, looking for a shop was tough. It took some time to find one that fit our needs… we can be rather picky, and toured 50 different locations. After months of looking and hoping, we finally found a space that was perfect for our team! It has enough room to fit a field, a mezzanine for storage, enough parking spaces, bathrooms, an office space, and is within our budget! As of April of 2020, it's officially leased to ATX Robotics!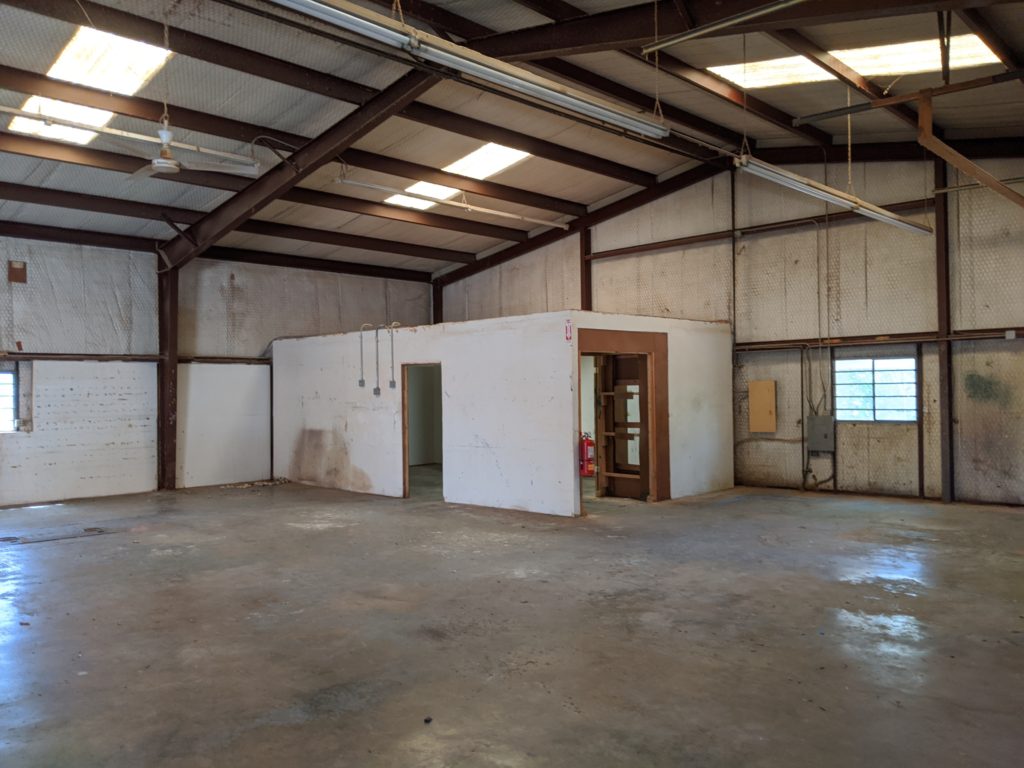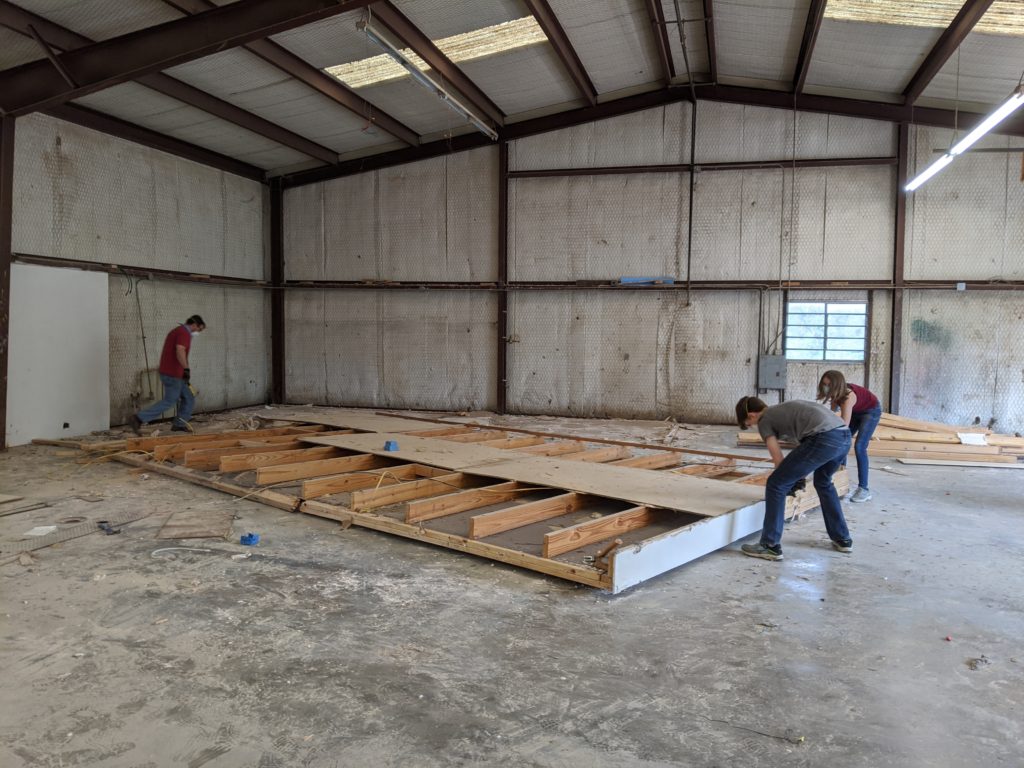 But we needed to clean it up first. Everything was dusty, grimy, and filled with cobwebs.
The warehouse came with an additional bonus of an ugly and shabby storage building that was waiting to fall down and needed to go, so we removed it immediately. And then we cleaned everything up! Next it was time to pack up and leave our mentor's garage for good!
Once the mentor's garage was cleared out of all Howdy Bot items and put into numerous storage boxes, we could start moving everything into the warehouse! A line of clutter from the garage and scatterings of tools, parts, and machines. After a few weeks of sorting, we had the shop in usable condition. It wasn't perfect by any means and we still have a lot of work to do, but we finally have a designated functional shop.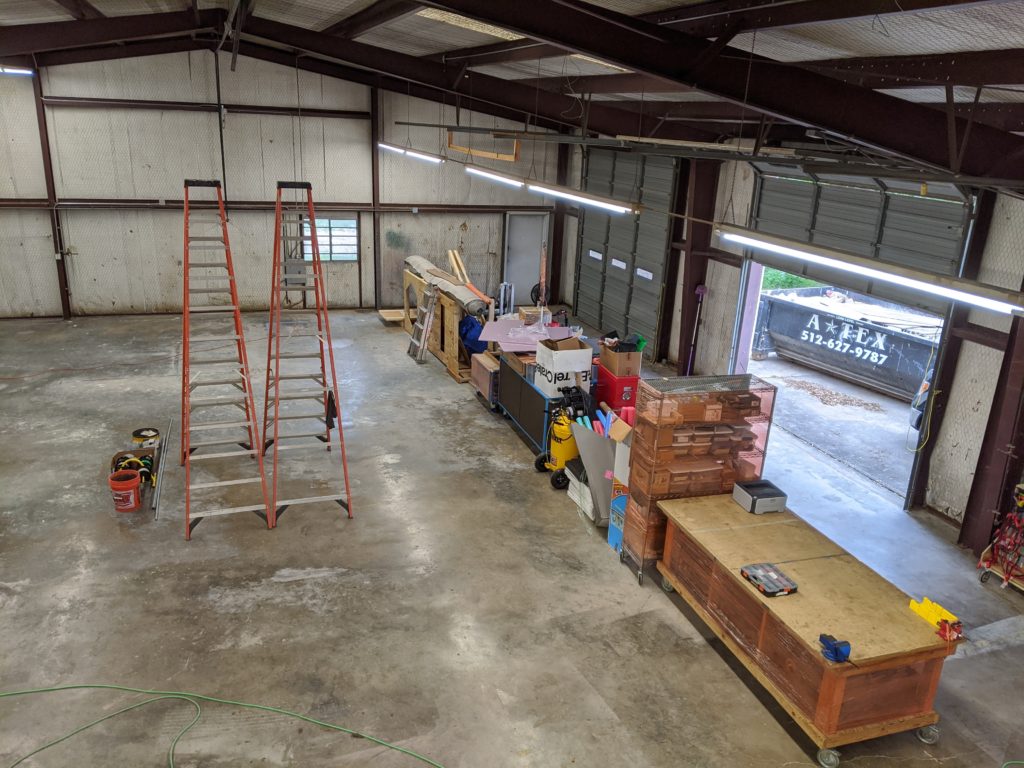 Howdy Bot Headquarters 2.0 will be able to hold 30-40 students comfortably, allowing us to expand as a team when the time comes, and recruit as many local students as are interested.

Now that we have a new shop we have plenty of room to dedicate spaces to certain uses, like our Field area! We can finally keep a quarter field up at all times to practice or test the robot on, soon we will get more carpet to expand to half a field!
When we were back in our head mentors' garage finding space to drive the robot could sometimes be a big challenge, especially if it was raining and we all had to stay in the garage. Our field area is in the corner by our CNC machine and mechanical area.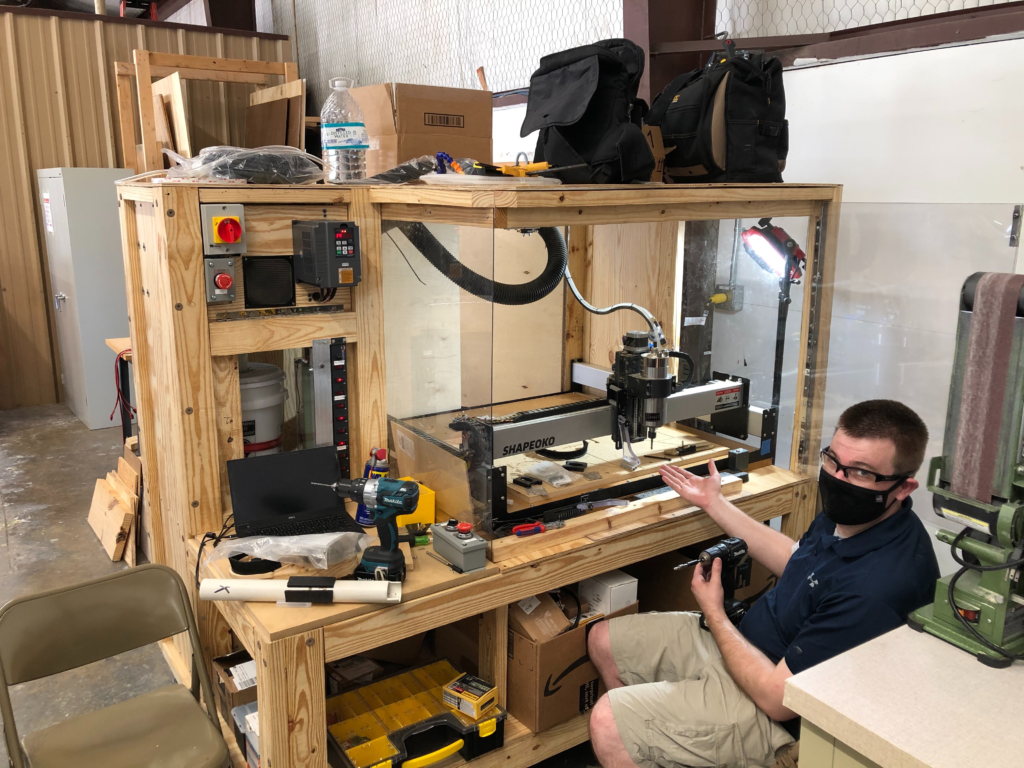 One of the perks of having your own space is having the room for better equipment, like having our own CNC machine. The CNC will allow us to do more machining in less time, previously requiring the back breaking work of a manual saw. Its current home is sitting in the far left corner of the shop, giving it enough room and keeping the noise to a minimum. A custom table that one of our mentors built holds the CNC and all the tools needed to use it. Across from this is a desk with a computer for programming the CNC's function.
Adjacent to the CNC machine is our mechanical area, home to our parts, tools, machines, and anything and everything exciting. This includes our chop saw, table saw, belt sander, drill press, pneumatic tools, hand drills, part bins, and much more.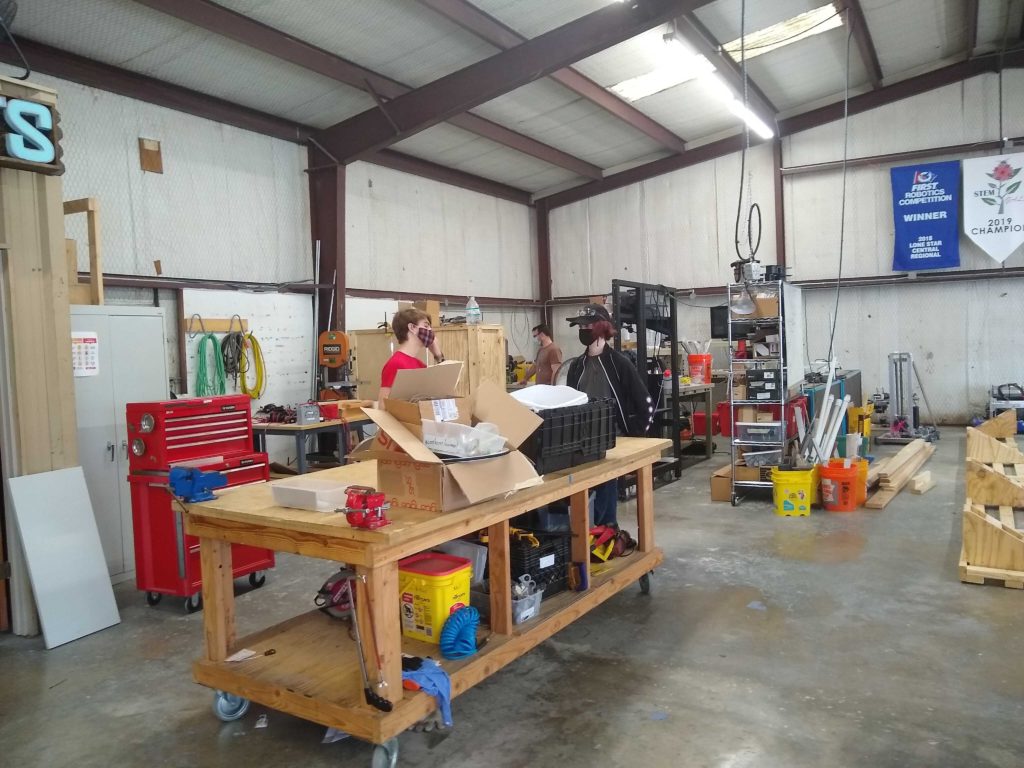 Next our mechanical area is programming, which overlooks the field, making it faster and easier for them to test newly finished code. Previously, our coding had to be tested on an uneven driveway or living floor, so a large flat area is like heaven to the programming subteam. This is also where most of our computers live, so it shares space with our CAD subteam. The CAD area holds our two most powerful computers, so that Solidworks can be run fast and efficiently.
Our Marketing/Communications table is the safest area of the shop, and closest to snacks. It's one of the only locations in which eye protection is not required, besides the office of our Head Mentor and Team Administrator. The office also holds our server bank and 3D printer.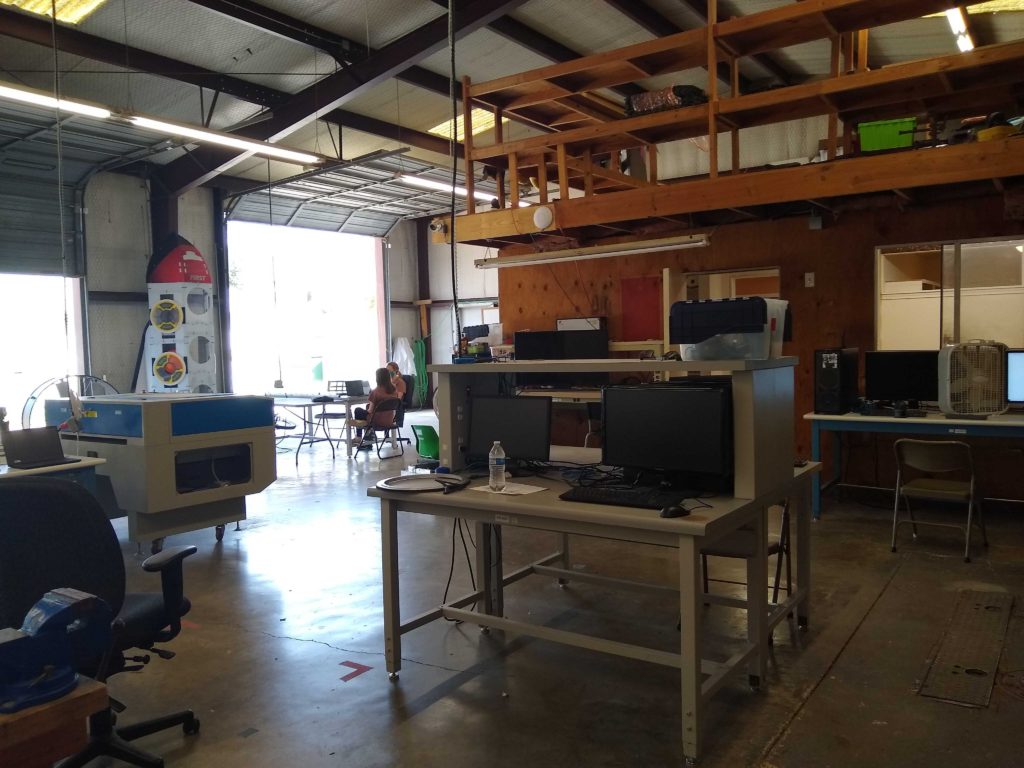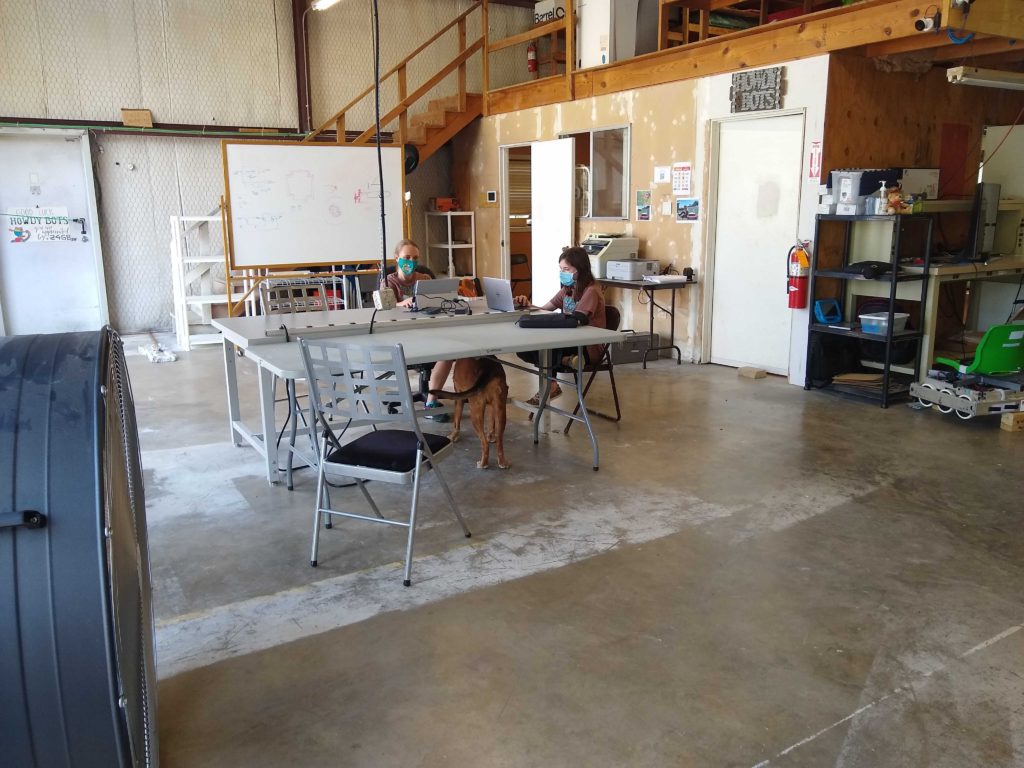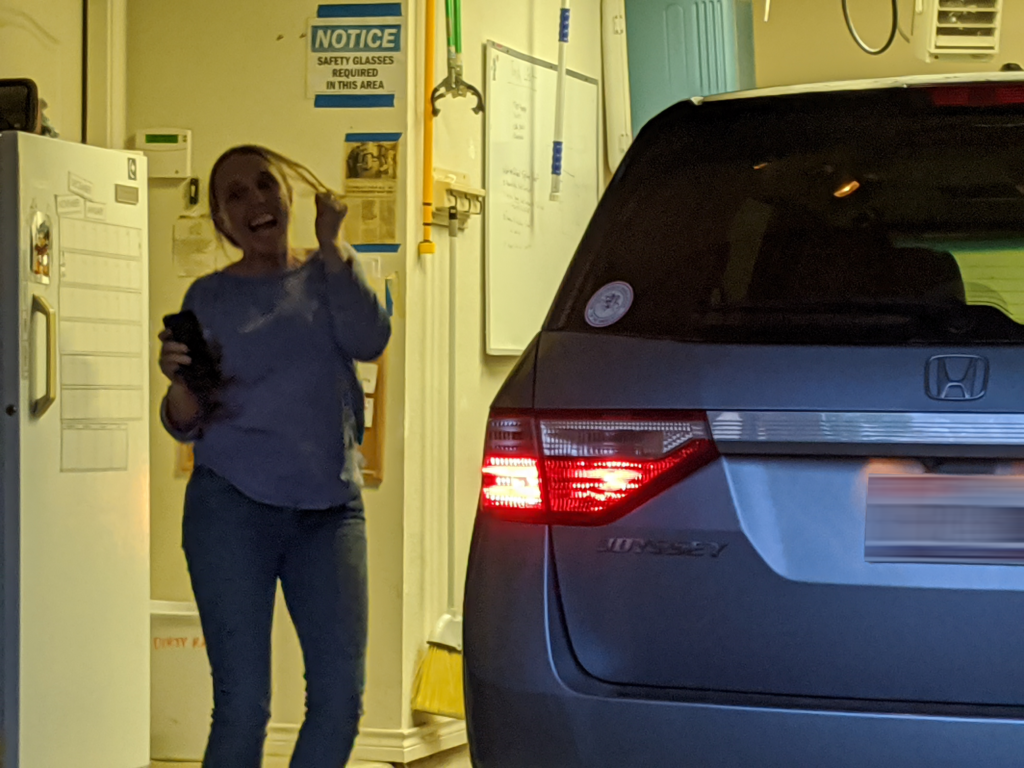 The best part of moving out was seeing our Team Admin's reaction to parking her car in her garage for the first time in FOUR years!