With less than a week left, our team has been working to finish up our robot, and we are happy to say it is nearly done!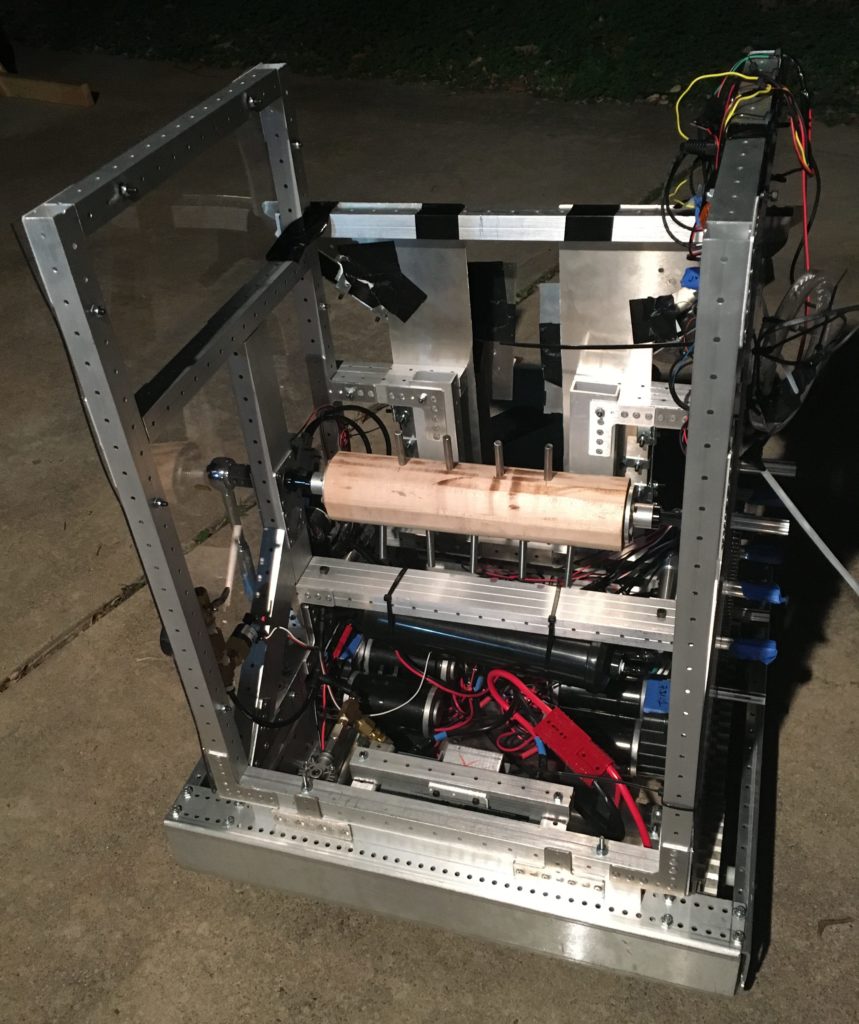 Meet our robot! He can place gears onto a lift by opening doors, and he can climb a rope!
The Electronics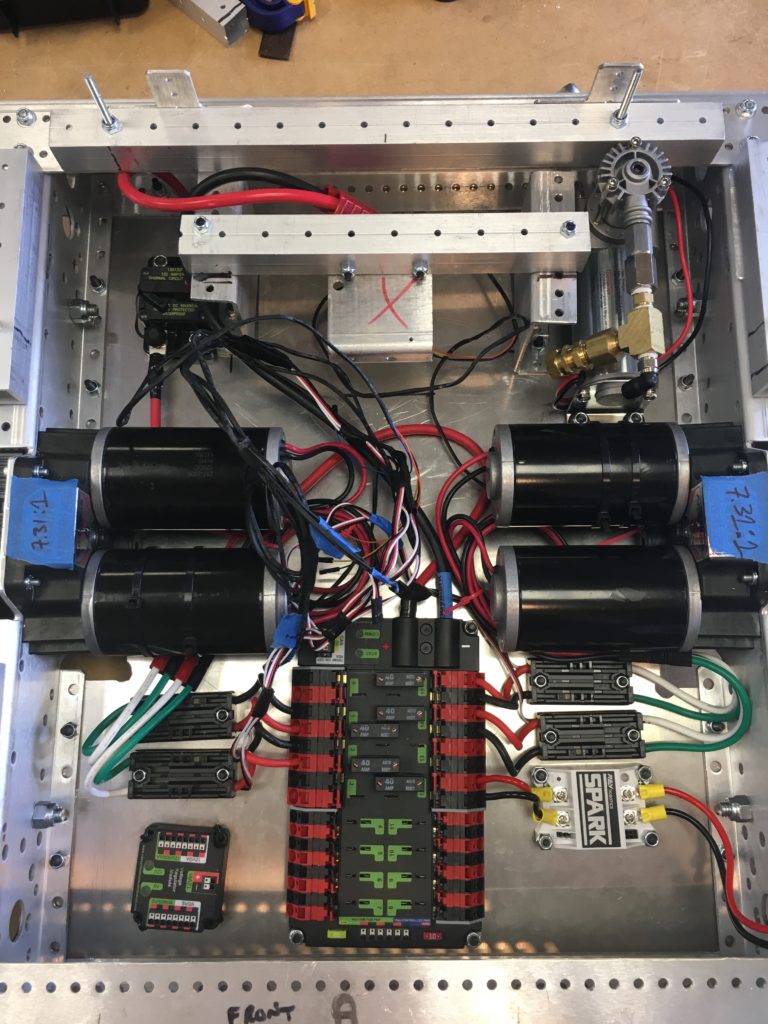 All these electronics are at the very bottom of our robot. The robot turns on with the switch at the top left corner. The PDP (Power Distribution Panel) spreads the power from a battery to all the electronics that require power. The VRM (Voltage Regulator Module, at the bottom left) allows the wires to constantly spread the same amount of power, instead of it fluctuating. The four CIM Motors turn the wheels, allowing the robot to drive, and the Motor Controllers below the CIM Motors allow the motors to turn at specific speeds, instead of just turning at a set speed. In a few days, we will have bumpers around this to protect the robot during the game in case it bumps into other robots.
Rope Climbing Mechanism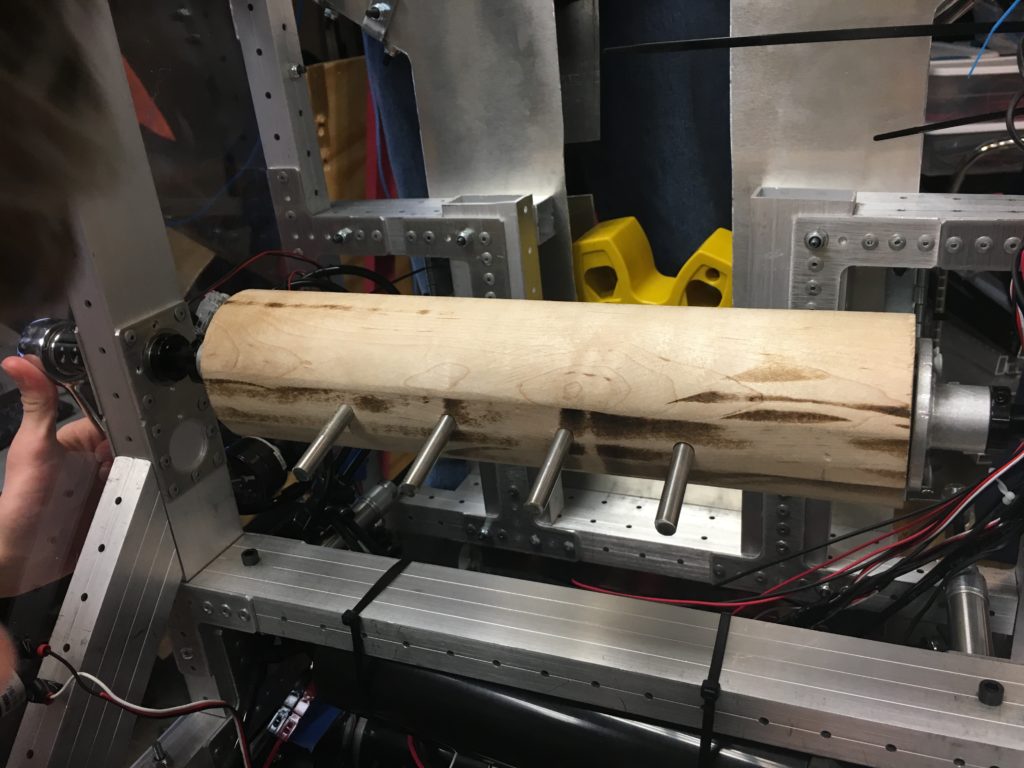 Here is our rope mechanism! This shaft made of maple wood will spin and collect the rope by a loop on one of the metal pegs. It will pull the robot up and hit the pressure plate at the end of the game. It spins by the chain belt seen below, which is connected to a CIM motor. This mechanism is strong enough to lift up to 130 pounds!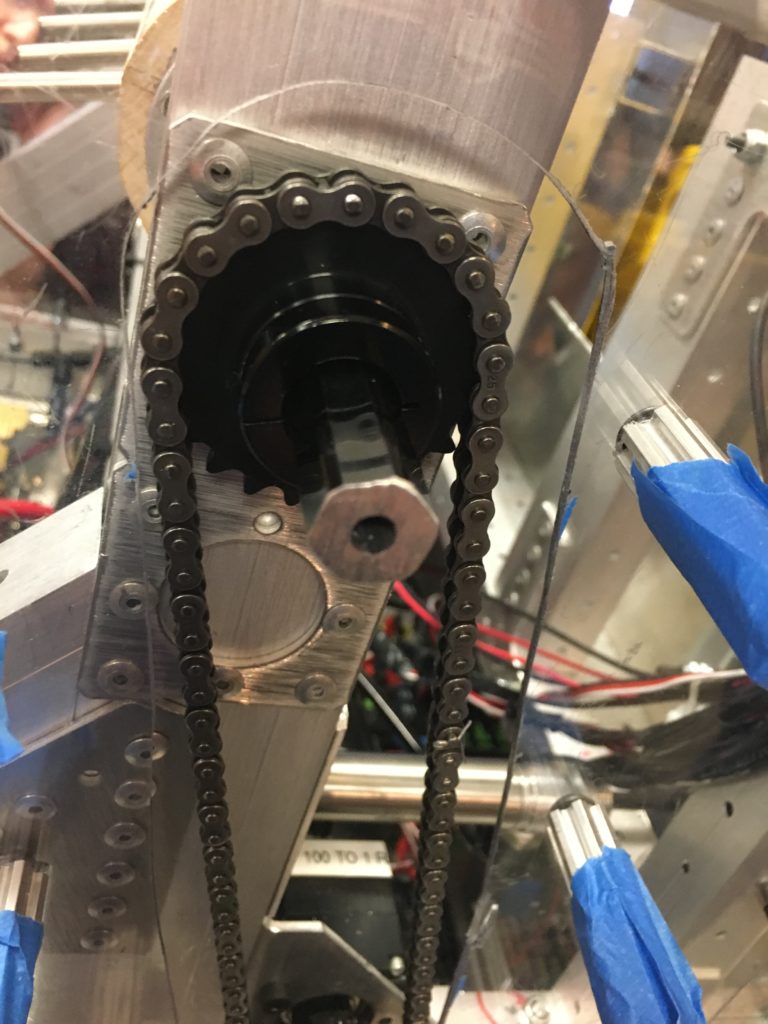 Gear Mechanism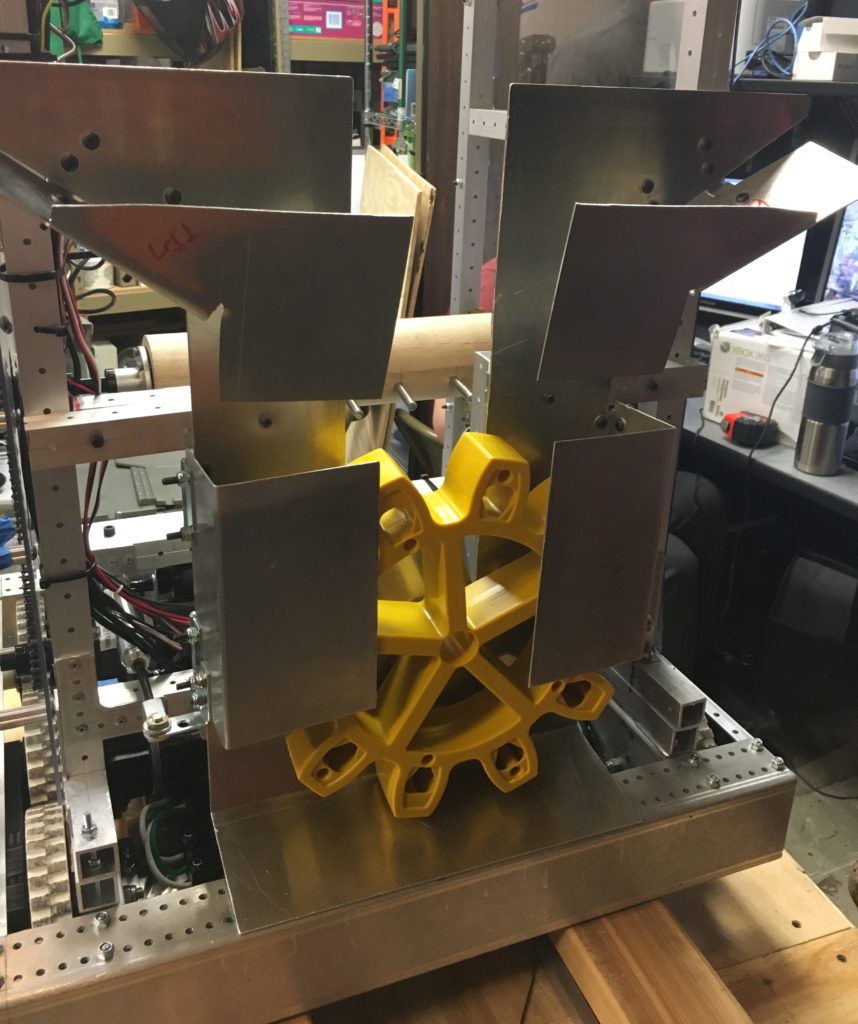 This is our gear mechanism. We call him Flappy Doors! The gear is dropped into the funnel at the top from a gear hopper on the game field. The robot then drives to  the other side of the field, where it will deliver the gear to a lift. When the gear gets to the lift hook, our pneumatics system will open the doors and release the gear.
Pneumatics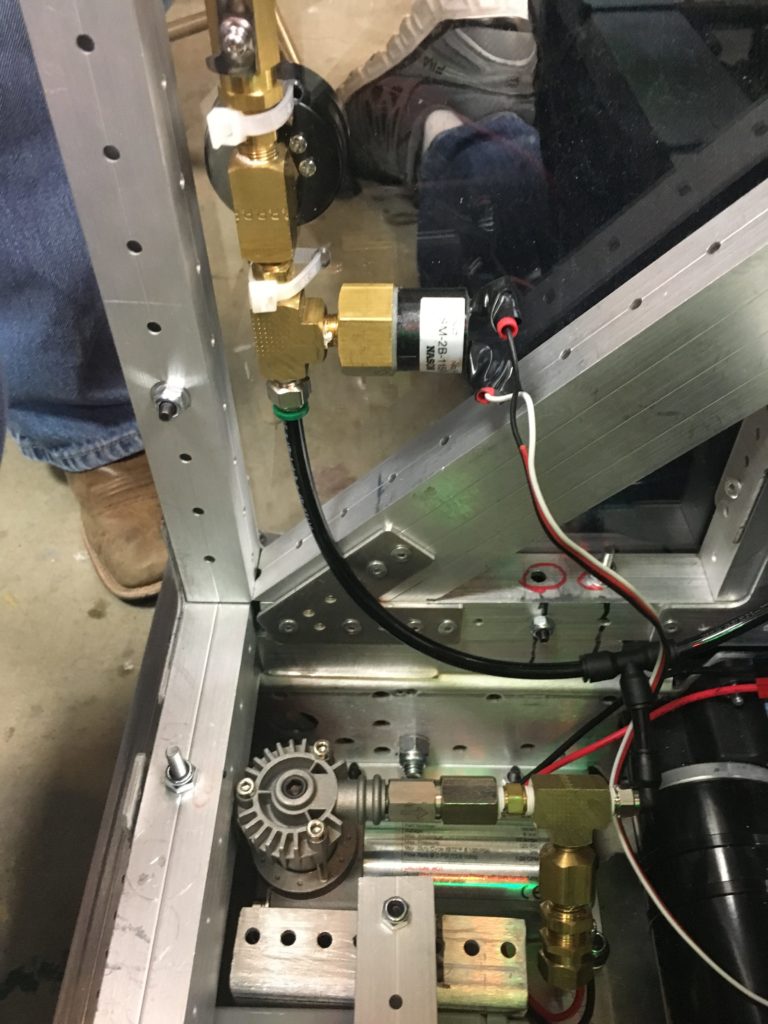 This is our robot's pneumatics system. When the robot is activated, the compressor (bottom of the top image) is turned on and starts filling the system with air. The gauge in the top image measures the air pressure, and turns the system off when it is full. The air then spreads evenly to the pistons (the metal bar shown in the image below) to open and close the flappy doors to drop off the gear at the lift.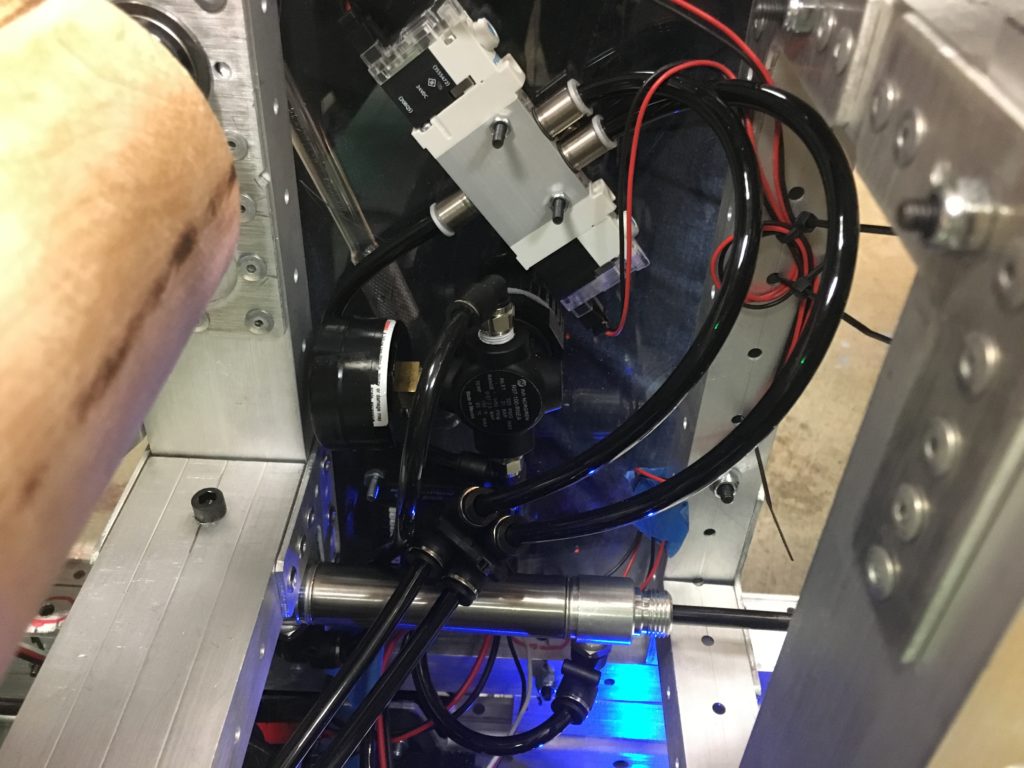 Over the next few weeks, we will make a robot reveal trailer on our YouTube channel if you want to see the robot in action. Tune into our social media accounts and subscribe to our YouTube channel to see that when it comes out!
Thanks for reading!